Nak pergi mana winter ni?
Assalamualaikum wbt

banyak dengar perbincangan sahabat,adik2 yang baru datang nak ke mana winter ni.Paris?Sepanyol? Panjat ski dkt swiss? Before we do all that,apa kata kita set our mind. as everyone would be aware of the importance of begin with the end in mind. InsyaAllah program-program yang saya tahu akan dikongsikan,moga boleh dimanfaatkan. Not just as a muslim, but as well as a student,travellers and so on. Lepas tu,baru la best g travel. (trust me, going to Paris just to see the Eiffel is not an amazing thing! I've been to spain (and maybe that's because I've only been there.hehe) and really know what I want out of it give me the best time of my life + an added value, nak tahu kena la tanya,nak suruh bawa pun bleh.insyaAllah.)

so 1st runner up....
PUISI
-sebab? saya nak g sana. dengan shafini dengan farhana kan??? :) insyaAllah.siapa mau ikut jom2
meh tgk vidoe ni, KAIZENNN
insyaAllah akan berlangsung dari
22-26dec
mount melleray,ireland
2nd runner up
FUIYO
-kena gak promote sebab saya team iluvislam.huhu and selalunya program iluvislam sempoi tapi bermanfaat insyaAllah.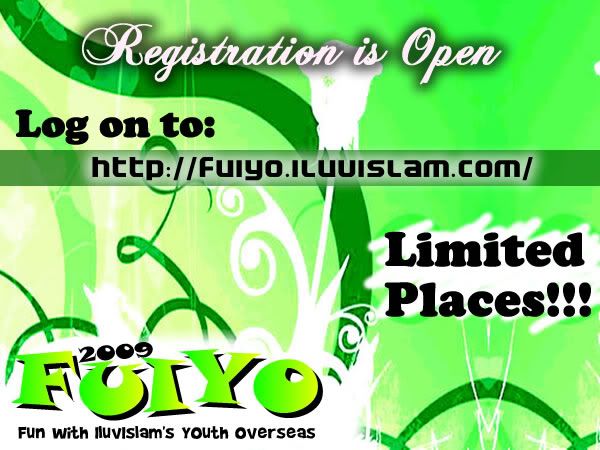 what you give ,you get back!
http://fuiyo.iluvislam.com/
untuk maklumat lanjut.
jom,sama2 manfaatkan waktu cuti. Allah cintakan pemuda yang berjihad pada jalanNya,tidak kira senang apatah lagi susah deh :)
*walaupun diri ini terasa kelewatan buat benda ni,tapi better too late than never kan :)
'Dan hendaklah kamu beribadat kepada Allah dan janganlah kamu sekutukan Dia dengan sesuatu apa jua dan hendaklah kamu berbuat baik kepada kedua ibu bapa dan kaum kerabat dan anak-anak yatim dan orang-orang miskin dan jiran tetangga yang dekat dan jiran tetangga yang jauh dan rakan sejawat dan orang musafir yang terlantar dan juga hamba yang kamu miliki. Sesungguhnya Allah tidak suka kepada orang-orang yang sombong takbur dan membangga-banggakan diri; ' (An-nisa:36)